e-commerce asal Cina, JD.com, telah berhasil mengantar pesanan kepada pelanggan menggunakan drone. Lho, bagaimana ceritanya? Yang pasti, drone delivery akan menjadi trend di dunia e-commerce!
Baik e-commerce lokal maupun asing, semuanya berlomba-lomba untuk menjadi yang terdepan dengan melakukan berbagai promo dan inovasi.
Pengiriman pertama dengan drone ini dilakukan oleh JD.com satu hari setelah promo diskon pertengahan tahun mereka. Drone tersebut berlepas dari kota Xi'an sambil membawa paket sebesar ukuran bola sepakbola ke daerah pegunungan. Ternyata, e-commerce Cina ini memiliki empat puluh drone yang siap beraksi! Drone-drone tersebut hanya digunakan untuk pengantaran ke daerah-daerah terpencil untuk memangkas ongkos pengiriman dan waktu. Handphone dan makanan adalah contoh barang yang biasanya diantar oleh drone e-commerce tersebut. Original Source: https://iprice.co.id/trend/teknologi/delivery-pakai-drone-jadi-trend-e-commerce-bagaimana-dengan-indonesia/
Baca juga:
5 Upcoming Phones of 2018 You Need to Lookout For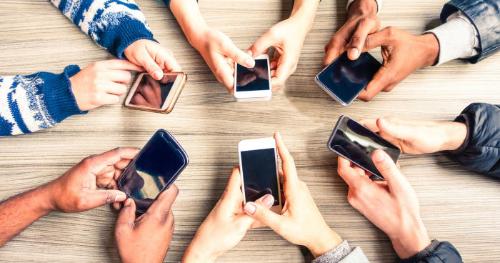 It took 36 KB (kilobytes) of data to take men to the moon during Nasa's first mission 50 years ago. Today, we can't talk in terms of kilobytes anymore. Our smartphones have gigabytes worth of data and it's fast increasing. It's amazing to imagine how our mobile phones are so incredibly advanced, we may have to replace them every 2-3 years. phone That begs the question: What are some of the upcoming smartphones expected for this year? We have the latest low-down on upcoming phones for 2018 right here. Disclaimer: Many of these phones are concepts so phone specs may vary from now till the release date. HTC U12 HTC Upcoming HTC mobile phones matchmake simplicity with functionality. The same will be expected of the HTC U12. Said to be HTC's flagship phone, the HTC U12 will most likely feature a Snapdragon 845 chipset underneath. As for storage, the HTC U12 is speculated to have 6GB RAM with a choice of 64GB or 128GB internal storage. As are most HTC phones, the U12 will feature a fingerprint sensor and an almost-bezel-less display. For those who love HTC models, this one is worth the wait. Samsung Galaxy Note 9 Probably the biggest release this year will be the Samsung Galaxy Note 9. Judging by previous years' release of Samsung flagship phones, the Note 9 will bring all the goodies Samsung fans love. Display size will be around the 6.4-inch range with dual-camera system similar to the Galaxy S9 Plus. The chipset will most likely be the Exynos 9810 along with 6GB RAM. Galaxy Note 9 Battery will most likely be a 4000mAh battery. Rumoured to be release around August 2018, the Samsung Galaxy Note 9 will also have a fingerprint scanner and the Bixby assistant to help you with all your needs. Xiaomi Redmi Note 5 Pro Most of us love our budget smartphones. Xiaomi's best budget smartphone this year will be the upcoming Redmi Note 5 Pro. With dual rear cameras, a powerful octa-core processor, 4000mAh battery capacity, face ID, and much more, the Redmi Note 5 Pro is said to be a real keeper. redmi note 5 pro https://iprice.co.id/harga/xiaomi-redmi-5a/ On the inside, the Octa-core 1.8 GHz Kryo 260 with a Qualcomm SDM636 Snapdragon 636 chipset keeps processes fast while the choice of 4 or 6GB RAM allows for versatility. On the outside, its IPS LCD capacitive touchscreen is protected by Corning Gorilla Glass. One the goodies will be the 4500k Selfie-light and a Beautify 4.0 enhancement to get selfies perfect. Surely the Xiaomi Redmi Note 5 Pro is one phone you don't want to miss! Blackview X Ever wanted an iPhone but can't afford one? Look no further! The Blackview X (10) is here! Blackview is one phone brand that may be obscure for us in Malaysia, but the brand is now coming to light. Rumoured to be made with a combination of glass and metal exterior, the Blackview X will house a 5.85-inch display with a 19:9 ratio. Mimicking the iPhone X, the Blackview X will also have a dual-camera system. But unlike the iPhone X, the Blackview X runs Android Oreo 8.1. That much is known about the Blackview X. LG V30S ThinQ Another name you must look out for is LG. The Korean electronics giant brings out the future in the LG V30S ThinQ. Although there is not much news on the LG V30S ThinQ, it is speculated to run Android 8.0 and upgrades such as picture-in-picture (PIP) feature for apps such as YouTube, Google Maps, and Hangouts. The LG V30S ThinQ's display is said to be 6 inches with a 2,880 x 1,440p resolution, creating vibrant visuals for any app. So far, that is what's known about the LG V30S ThinQ.